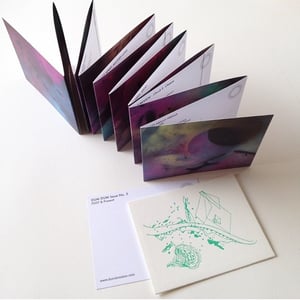 $

30.00
SOLD OUT, ONLY AVAILABLE ON KICKSTARTER!
You can get the full DUM DUM Zine Canon now through March 22 on our Kickstarter here: https://www.kickstarter.com/projects/taleenkali/dum-dum-zine-issue-no-6
Issue No. 5, "POST & Present," is a postcard book containing a mixture of text and image, featuring the artwork of Christine Nguyen and exploring the ideas of communication and intimacy with pieces limited to 100 words or less. Contributors include Lizi Gilad (The Rumpus), Chris Daley (L.A. Times), Taylor Yates (Selfish), Oliver Zarandi (HTMLGiant, Hobart), and many more!
Accordion-fold digitally printed cardstock postcards, letterpress editors letter and a standalone blank postcard (for you to send!) tucked neatly into a translucent vellum envelope. (We love that last touch--since the artwork looks like abstract colorful constellations, the issue looks like it's a tiny encapsulated galaxy floating inside the envelope). Tied lovingly with cerulean and royal purple yarn.